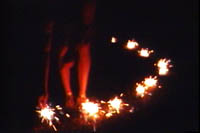 Jane Steuerwald was born in Queens, NY. Since 1980 she has been working with 16mm and Super 8mm film and video as an art medium. She has created installations, documentaries, found footage works, narrative and experimental films, and single edition art books. Her work explores memory, family, and personal narrative. She studied film, video, and synaesthetic education at Syracuse University and received both a BFA and an MS. She completed an MFA in film at Bard College in 1987.
She was a member of the Board of Trustees of the Black Maria Film and Video Festival for many years, where she continues to serve as a pre-screener and guest curator. In 1989 and 2004 she received Artist Fellowships from NJ State Council on the Arts, and has also received grants from the NJ Historical Commission, the Puffin Foundation, Lightworks, Sony/AFI, and NJ City University.
Her film and video has been shown in arts venues and festivals including MoMA and Millennium Film, and she has won numerous awards including from the Black Maria Film and Video Festival, the Asian Cinevision International Film Festival, the Atlanta Film and Video Festival, and the Athens International Film and Video Festival.
Jane Steuerwald is the coordinator/curator of Urban Image, a collective of media artists based at the Media Arts Department of NJ City University and the curator of the Womenswork Media Collective also based in Jersey City. Screenings of Urban Image and Womenswork showcases have played in venues including Millennium Film, NYC; Galapagos ArtSpace, Brooklyn, NY; The Jersey City Museum; the Landmark Loew's Jersey Theater; the Hoboken Historical Museum; and the NJ State Film Festival at Cape May where Steuerwald has been a guest curator. She was chair of the Media Arts Department of NJ City University for many years, and has taught media production, history and aesthetics for decades. She was chosen for inclusion in Who's Who in American Colleges and Universities in the US, Fall 2005.
She resides in New Jersey and upstate New York with her family.